Fire Safety #1 For Us- One Less Worry for You
Fire Safety #1 For Us- One Less Worry for You
Fire Protection You Can Depend On
At Belle City Fire & Safety fire protection is #1 for us. So it's one less thing to worry about for you. Each of our four service areas (Services) keeps your employees and your property safe from the destructive forces of fire.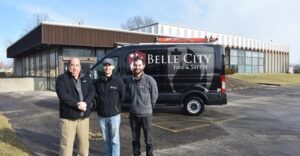 Our trained technicians keep you in compliance with safety standards by delivering, monitoring and servicing fire protection equipment at your location and, if needed, in our new location at 2615 Mount Pleasant Street in Racine, Wisconsin.
Whether you need fire extinguisher service/recharge, fire suppression systems, fire alarm install/service, or first aid supplies, we can help. You can count on the same level of quality service we've been providing since 1985. Call us or request a quote here.
VISIT OUR OFFICE
2615  Mt. Pleasant St.
Racine, Wisconsin 53404
8-5PM MONDAY – FRIDAY
Closed for Lunch:  Noon-1pm
PHONE US
CONTACT US